DHL Hong Kong Air Trade Leading Index ("DTI") is a quarterly survey implemented by Hong Kong Productivity Council ("HKPC"), and commissioned by DHL Express (Hong Kong) Limited ("DHL").
DTI is the first-of-its-kind in Hong Kong, offering publicly available market intelligence for local enterprises, especially SMEs which typically have limited resources or access to information, enabling all to take reference from a comprehensive business review of the sector in which they operate.
The Overall Index represents the air trade market outlook for the surveying quarter, in respect of import and (re-)export. The research also studies the underlying trends in business attributes, markets and air-freighted commodities, thus assisting local enterprises in arriving at a primed view of the business outlook of their markets.
DTI - Fourth Quarter of 2016
Release Date: Nov 11, 2016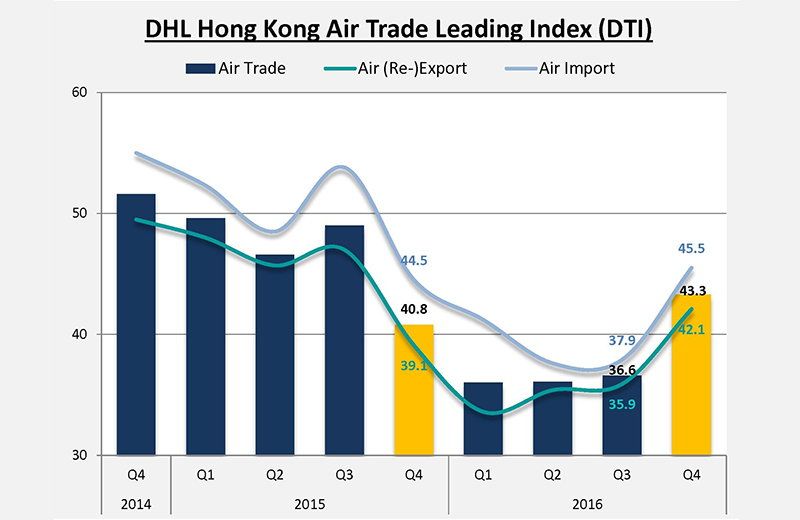 Although the uncertainties surrounding Britain's exit from the European Union (Brexit) overshadow the global economy, the survey result in fourth quarter continues to show upward momentum at an accelerated pace. Air trade volume index climbed to the highest in the past five quarters with significant improvements across markets and commodities.
Air trade outlook has become notably less conservative in Q4, posting at 43.3. Solid recovery is observed from both Air Imports and Exports in Q4. Other sub-indices generally exceed 40 points and rose above the level of the same quarter last year.

Confidence in Asia Pacific trade rebounds as air traders expected notable improvement in the prospects across all key attributes.

Mr Gordon Lo, Director (Business Management) of Hong Kong Productivity Council, said, "Enterprises should continue to be cautious while dynamic in the deployment and planning of business strategies. For example, the application of innovative technology can enhance the customer experience, creating new demands and new markets. Enterprises are advised to earmark special resources for product development or to collaborate with other research institutes or experts to develop impactful and innovative products or services."
Download the latest report of DTI (PDF version) (Text-only version). Survey results of the First quarter of 2017 will be released in Feb 2017.
Download of DTI Quarterly Report
Methodology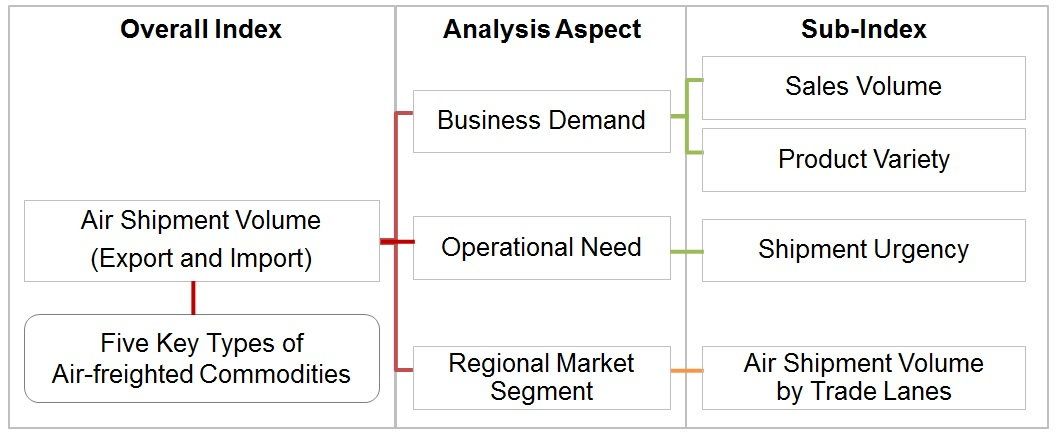 Index Calculation: Index = [100 x (Percentage of samples responding "Positive") ] + [50 x (Percentage of samples responding "Neutral") ] + [0 x (Percentage of samples responding "Negative") ]
Readings

Ratios of collected responses are used to form the indices.
An index value above 50 indicates a positive outlook while a reading below 50 represents a negative outlook for the surveyed quarter against the same period last year.
The further the reading is from 50, the more positive or negative the outlook is.
Demographics
Respondents are Hong Kong-based companies associated with either inbound or outbound air trade. It includes Watches, Clocks & Jewellery, Apparel & Clothing Accessories, Electronics Products & parts, Gifts, Toys & Houseware, Food & Beverage and Others (including courier service and other items which do not belong to the categories listed above).
600 samples are collected in each quarter.
Sample companies are randomly selected from publicly available directories.
Disclaimer
This report contains survey result based on research findings. HKPC will not be liable for any loss, mistake, delay, action or non-action by viewers of this report.
Enquiry
For more details about the Index, please contact Mr. Eric Cheung at tel. (852) 2788 6008 or email: This email address is being protected from spambots. You need JavaScript enabled to view it..